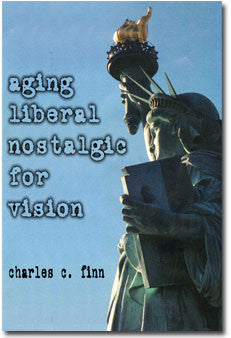 Aging Liberal Nostalgic For Vision
ISBN: 978-1-4343-9116-2
Aging Liberal Nostalgic for Vision. Communities in which we are embedded cry for conscious participation, sometimes for outrage. These responses to social issues of the late 20th century touch on race, war, politics, and personalities affecting our nation and the world. 259 pages.
How Bright Will be the Morning
That my country holds to the death penalty-
whether to deter from heinous crime,
spare taxpayer a lifer's room and board,
or appease embedded lust for vengeance-
is an abiding sadness.
How bright will be the morning
when we waken from collective sleep and dark dream.
Extraordinarily Feared
Nobody's arguing for abortion--
the arguing is for choice,
for respect for an individual's right, even duty,
to follow her conscience.
Such infuriates anti-abortionists,
yet were not something else going on,
wouldn't it be consistent for those pro-life to be
pacifists against war,
passionate against capital punishment?
According to my impression, they usually are not.
To be selective about sacredness of life
hints that something else,
besides consistent adherence to principle,
is going on.
Freedom of choice extraordinarily is feared.
July 1988
Capacities for Both Lie Within
Remembering the Civil Rights movement elates:
bus boycott,
sit-ins,
freedom rides,
voter registration,
heroism of vision, compassion and courage.
Remembering the Civil Rights movement crushes:
ribs crushed,
children cursed,
hoses and dogs brutalizing,
murders by bombs, bullets or beating,
Nazi savagery.
Capacities for both lie within.
His Poison Spews On
It's hard knowing how to respond to the vitriolic Rush Limbaugh.
Ignore him, I've been telling myself--who needs contamination from poison?
But all the while I ignore, his poison spews on.
Appealing to the worst human instincts he fosters them,
fans fear,
canonizes bigotry.
Ache for the planet and cry for her healing
and be branded "environmental wacko."
Contend against the dehumanization of women
and with a savage grin be tagged "feminazi."
Had Jesus ignored the Pharisees he might have saved his skin,
but his sense of outrage wouldn't let him.
July 1994
---
---
---