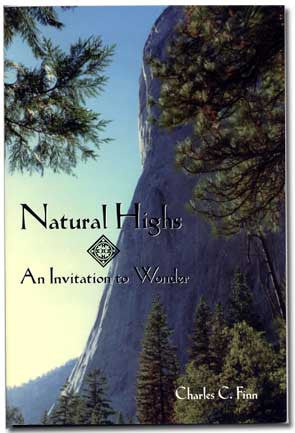 Natural Highs
ISBN: 1-55523-867-X
Natural Highs is a celebration of the joys available to us all if only we pay attention to the natural world. Poetry chapters include Moon, Flower, Rain, Tree, Mountain, Ocean, Fire, Snow, Night Sky and Seasons. Charlie gives us 104 pages of reasons to wonder and rejoice in the beauty that surrounds us.
There Will Be Fire!
For the first time since my muscle pull,
I can split wood!
And none too soon what with woodpile low
and January advancing.
Stumps from fallen hickory stand ready
to receive maul's decisive ringing.
And what would I do without son of six
astounding us both with unguessed strength
stacking even the big ones?
Shoulder mending,
hickory stumps waiting,
monster maul thundering,
son stacking higher--
by God, let January advance,
there will be fire!
Perfect Sounds
Wandering the beach tonight alone
I listened with the soul of me
to waves breaking close and to distant surf roar!
Thoughts scuttling every which way,
I kept the ghost crabs company.
Clouds obscuring moon and stars,
my attention was felicitously freed
to feel breeze off sea,
sand under remembering feet,
gratitude as deep as night.
O perfect sounds of waves breaking close
and distant surf roar.
Like the Moon
Like the moon
we each by the grace of the universe
have a dark side,
perpetually in night,
cool,
hidden in mystery
behind the splendor of our light.
Unearthing Potatoes
Maybe it's the archeologist in me
with fingers inclined to digging,
or the depth psychologist
probing beneath the surface,
or the child on Easter morning
hunting for hidden treasure,
or my Irish forbears
cheering triumph over famine.
Maybe it's none of the above
but only the enduring human pleasure
to ply the soil in awe.
Whatever the reason,
unearthing potatoes in my garden today
sent the spirit of me soaring.
July 1988
---
---
---
---